CHOREOGRAPHIC ARCHITECTURE/ARCHITECTURAL CHOREOGRAPHIES
Karin Andersson, Daniel Backlund, Jonathan Bringert, Linn Eriksson, Erika Henriksson, Maria Naidu, Natalie Novik and Alice Presencer
Place: Sjösala

Choreographic Architectures / Architectural Choreographies was a meeting between eight professional choreographers, dancers, architects and landscape architects which took place in Östra Ämtervik in May 2022. From their different perspectives, they have examined movements in the landscape, a meeting that challenges both choreographic and architectural practices.

During the two weeks that the group has been in Östra Ämtervik, they have not only met each other but also the place. Through meetings with experts in archeology, biology, agronomy, local history and agriculture, they have come to know different dimensions of the landscape. The purpose of the residency has been to create new ways of thinking, methods and collaborations through an artistic meeting and process.

The residency had a public viewing on May 21 at 15.00, at Sjösala in Östra Ämtervik.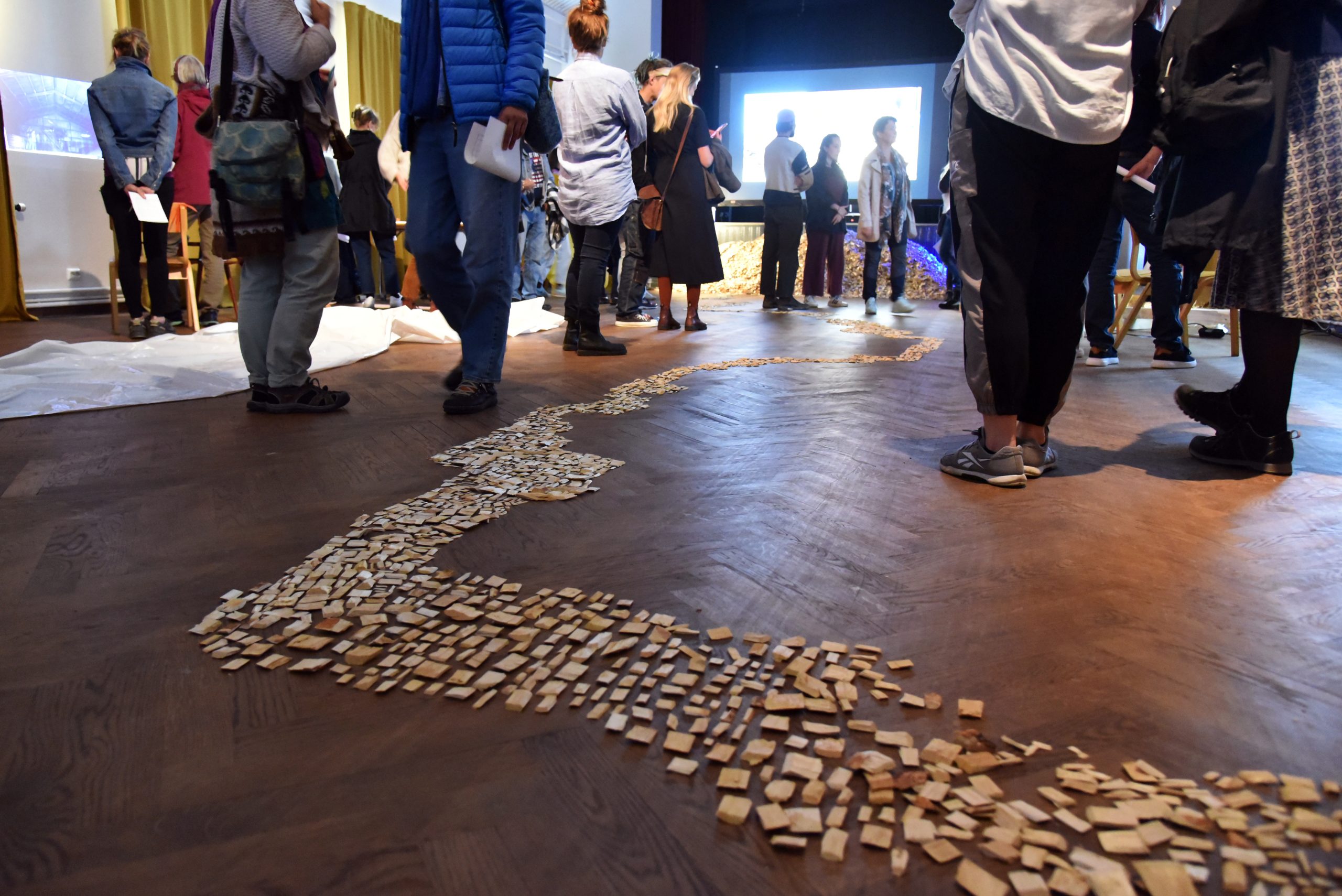 PROGRAM
12 May, at 9.00-09.45
Wild Poethics – Exploring relational and embodied practices in urban-making
Anna Maria Orrù
Place: Gunnerudsgården and digitally

Anna Maria Orrù shared her artistic research "Wild Poethics – Exploring relational and embodied practices in urban-making". She took us on a "journey to a fictional Island of Encounters reaching four destinations: Alba (body/curiosity), Agora (fiction/performance), Clinamen (atmosphere/imagination), and Plūris (metaphor/swarming)". Her study explores embodied methodologies in urban-making and challenges the Anthropocene perspective by approaching the notion of natureculture and vibrant materialism in a context of dance and architecture.

Read more: http://www.annamariaorru.com/PhD-Research-Wild-Poethics

View the recorded talk here:

15 May at 14.00 – 16.00
Below the surface
John Piccolo & Anna Hagelin
Place: Sjösala

With a magnifying glass and water binoculars at Fryken's beach, we explored places that are hidden from our view but which are crucial for how life on land develops. Our gaze is often drawn to the seductive glittering, reflecting, swirling or deep darkness of the water surface. Water is an important part of the landscape, but what lies beneath the surface is unknown to many of us. John Piccolo, biologist from Karlstad University and Anna Hagelin biologist from Länsstyrelsen guided us to the world below.

Accessibility: The workshop was adapted in relation to the participants abilities.

15 May at 17.00 – 19.00
To breathe water
John Piccolo & Erik van Ooijen
Gunnerudsgården

A conversation about approaching the water with scientific curiosity and literary empathy as it appears to the non-human life forms below the surface. With: John Piccolo, professor of biology at Karlstad University, has, among other things, researched the behavior of fish in running water from a conservation scientific perspective; Erik van Ooijen, Associate Professor of Literary Studies at Karlstad University. Latest book: The Ecology of the Night: Nature, Culture and the Dark Turn (2021). The talk is organized in cooperation with Residens Gunnerud, Alma Löv and Kari Lövås.

Accessibility: Gunnerudsgården has stairs to the entrance and no elevator. The toilet is big enough for a wheelchair. Rural movements had staff in place who could assist.

17 May at 9.00 – 09.45
Timescape Garden
Peter Lynch & Anna Asplind
Place: Gunnerudsgården and digitally

Peter Lynch (architect) and Anna Asplind (choreographer) talked about their interdisciplinary project Timescape Garden at Syltenberget in Norrköping. With dance as a starting point in the design process, they are creating a wild garden, a biocentric civic space where knowledge of and sensitivity to the not-human world are strongly present. Their project currently in construction/ implementation, was exhibited at the Venice Biennale in 2021 and at Cooper Union, New York in 2022.

View the recorded talk online:

About the residency artists:

Jonathan Bringert, Maria Naidu, Linn Eriksson, Karin Andersson
Natalie Novik, Erika Henriksson, Daniel Backlund och Alice Presencer

Karin Andersson
Karin Andersson is a landscape architect and works in the borderland between art and urban planning. She works mainly with the collective Disorder, in the whole range from large-scale, long-term and strategic urban development projects to temporary installations, always with humans in focus. Disorder explores how architecture and art can be a tool for raising voices that are rarely heard in our society and explore, make visible and challenge the power structures that are active in the public sphere.

DIS/ORDER

Daniel Backlund
Daniel is 30 years old, an architect and educated at KTH in Stockholm and AHO in Oslo. Today he is a professional architect with a focus on restoration, transformation and new construction in Stockholm. 10 years ago, he moved from Värmland for the sake of his studies, but despite that, he often glances back at the architecture, building tradition and history of Värmland. The areas around Östra Emtervik have a strong history of storytelling and Daniel highlights the beauty that the tradition continues through new initiatives such as this project.

Jonathan Bringert
After some time freelancing in Sweden Jonathan started working at Staatstheater Kassel/Johannes Wieland Company in 2013 and has since been based in Germany. Alongside choreographing himself he also worked with creators such as Tiago Manquinho, Sabine Glenz, Cindy Van Acker and Romeo Castellucci. Over the last years Jonathan was a member of the ensemble in Braunschweig where he also got the chance to choreograph himself at the theatre. Jonathan is currently freelancing and living in Leipzig.

Linn Eriksson
Linn grew up in Värmland and was educated at Iwanson International (Munich) and SEAD (Salzburg). Based in Berlin, she then freelanced for several years around Europe. In 2017, she returned home to Värmland and has since been involved in many different projects for a wide range of target groups, and has worked for the spread and establishment of dance art at home. Linn also runs the association Touché – Movement & Sound Collective, which operates in various constellations for the development and exposure of cross-art.

Erika Henriksson
Erika Henriksson's practice is positioned on the borderland between architecture, art, craft and research. Her work is often shaped around different forms of staged experiences that illuminate performative aspects of making processes and the built environment. Henriksson has during the last years been working with a building technique that combines wood and clay and has been interested in exploring building methods as bodily scripts that shape human relation to the surrounding world. Reoccurring themes in her work concerns ecology, social and material relations, care and questions that concerns life itself. 

Maria Naidu
Maria Naidu explores the social, emotional and spiritual dimensions that dance generates. She builds her work on the strength of dance to communicate directly, across all kinds of boundaries and the ability to deeply touch people. Dance should provoke, stimulate and inform rather than just entertain. Maria's artistry is based on solid craftsmanship, deeply rooted in the art of dance, which in combination with curiosity, interest in development and renewal has made Maria a multifaceted artist, who continues to discover new forms to approach the art-form.

Natalie Novik
Natalie Novik is an architect, researcher and educator. Her work lies in the field of critical spatial practice, her interests include topics of urban curating, self-organisation, urban commons, collective use and collective care, as well as various types of space in-betweenness. Since 2018 Natalie runs a design studio with focus on games as tools for dialogue, and since 2021 she conducts doctoral education in artistic research at HDK-Valand Academy of Art and Design.

Alice Presencer
Alice Presencer is a Performing Artist that works with sound and movement. She works in Denmark, Sweden, Finland and Ireland as a Singer, Dancer, Performer, Filmmaker and Choreographer. Her work searches for resonance by using the body as an instrument to tread the line between the "unknown" and the "familiar".  Through merging different artistic practices, she hopes to encourage the contemplation of accepted norms while contributing to the understanding and expression of human experience.

The residency is organised together with Mikael Sonnsjö (architect) and Lovisa Lorén (architect)
The residency is supported by Swedish Arts Council